The instrumentation within the Institute for Bioengineering Research is used for both research and teaching. The following instruments are included at the Institute for Bioengineering Research and are located in Learned Hall. To inquire about training and instrument use at the Institute for Bioengineering Research Laboratories, please complete the IBER Request Form. A completed IBER Request Form must be on file for anyone working in the laboratories. For more information contact: 
Qiang (Charles) Ye, Ph.D.
Director, Institute for Bioengineering Research Laboratories
Office: Learned Hall 5101E
Phone: 785-864-1746
E-mail: yeq@ku.edu
Veeco Wyko NT 1100 Optical Profiler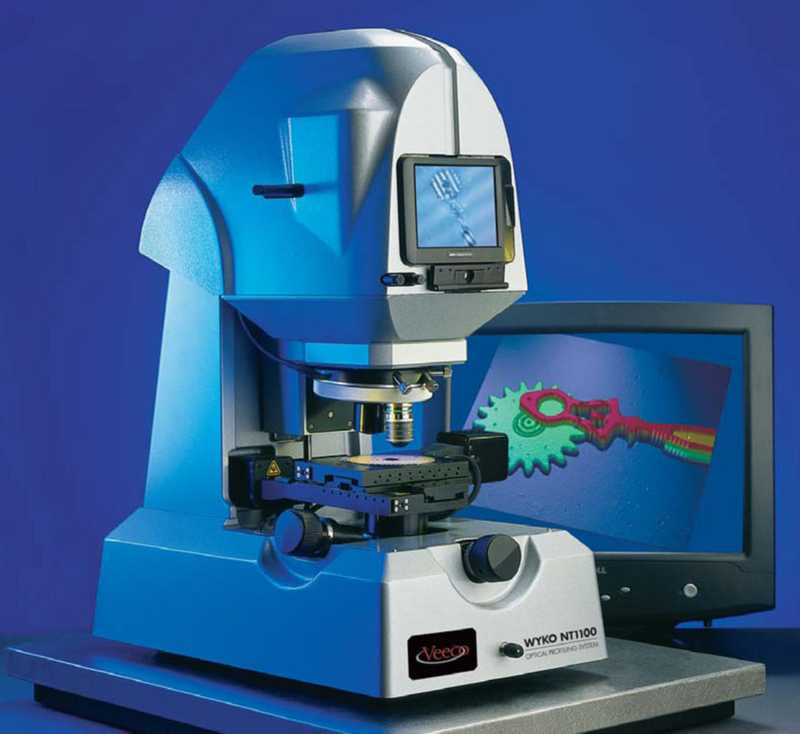 The Wyko® NT1100 provides accurate, non-contact surface metrology for applications in MEMS, thick films, optics, ceramics, advanced materials and many more. Fast and repeatable, the NT1100 utilizes white light interferometry for high-resolution 3D surface measurements, from sub-nanometer roughness to millimeter-high steps. The versatile NT1100 provides repeatable surface measurement for R&D, wear and failure analysis, and process control.
Digital Instruments Multimode V Atomic Force Microscope coupled with Hysitron TS 75 TriboScope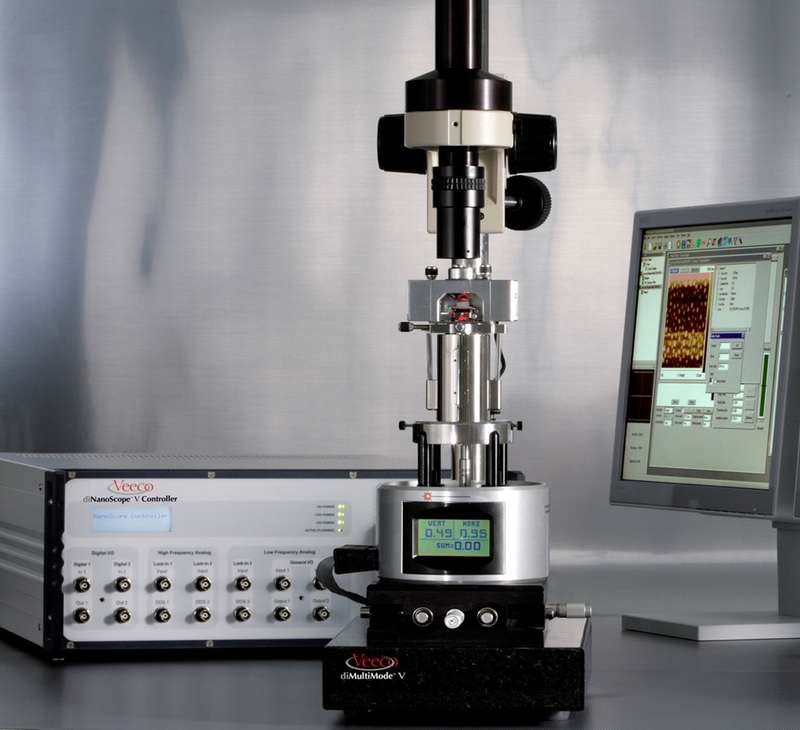 NanoScope V controller delivers reliable, high-speed data capture of high-pixel-density images (5120 x 5120). Enables up to eight images to be simultaneously displayed/captured. HarmoniX™ nanoscale material property mapping: Veeco Presents full-spectrum harmonic image processing with high resolution, real-time quantitative results. Fluid Imaging Cells provide contact mode and TappingMode AFM imaging in fluid environments. New liquid resistant MultiMode scanners are available. A single controller now controls sample temperatures from ambient to 250°C.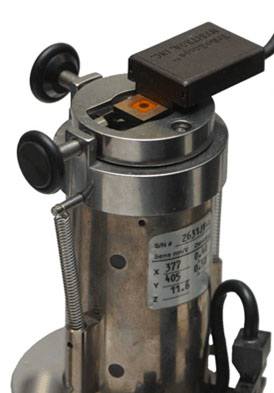 The TS-75 Nanomechanical Test System is a fully integrated AFM attachment with a new performech™ DSP embedded controller, which boasts a sub 30nN force noise floor and 160X faster feedback control than the previous generation controller. Utilizing the same indenter probe to obtain insitu SPM images as to perform the nanoindentation experiment guarantees quantitative and repeatable data. Upgrade options we have: nanoDMA™ – investigate time-dependent properties of materials using a dynamic testing technique designed for polymers and biomaterials; Modulus mapping – quantitatively map the storage and loss stiffness and moduli over an area from a single SPM scan; Feedback control – operate in closed loop load or displacement control to allow testing techniques such as creep and stress relaxation; Scratch testing – quantify scratch resistance, critical delamination forces, friction coefficients and more with simultaneous normal and lateral force and displacement monitoring; Automated TriboScope® – Automated indentation on an SPM using predetermined patterns or ClickMode® allows faster data collection with less operator time.
Q-Sense E4-Auto Quartz Crystal Microbalance with Dissipation Monitoring (QCM-D)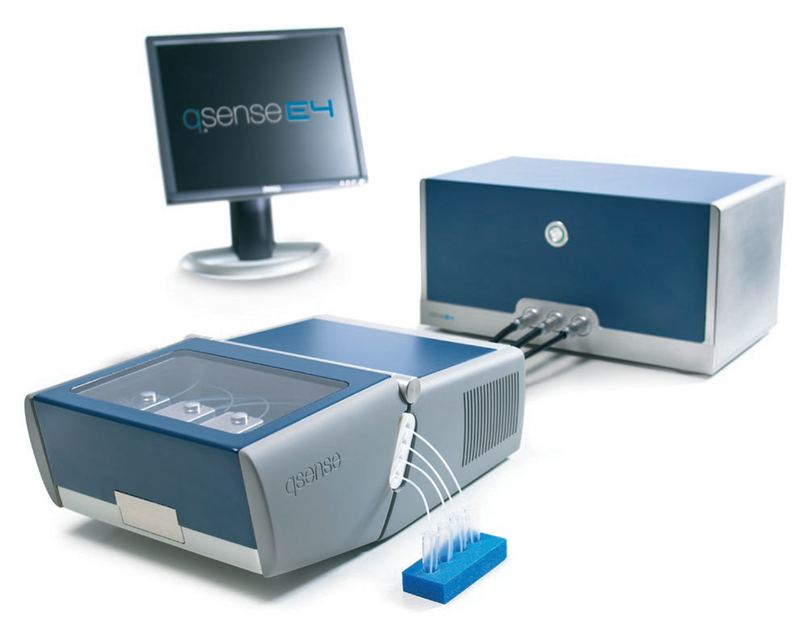 The Q-Sense E4 is a real-time analytical instrument for studies of molecular events occurring on surfaces. The E4 measures mass and viscoelastic properties of molecular layers as they build up or change on the sensor surface, which plays a key role in areas such as materials, protein and surfactant research.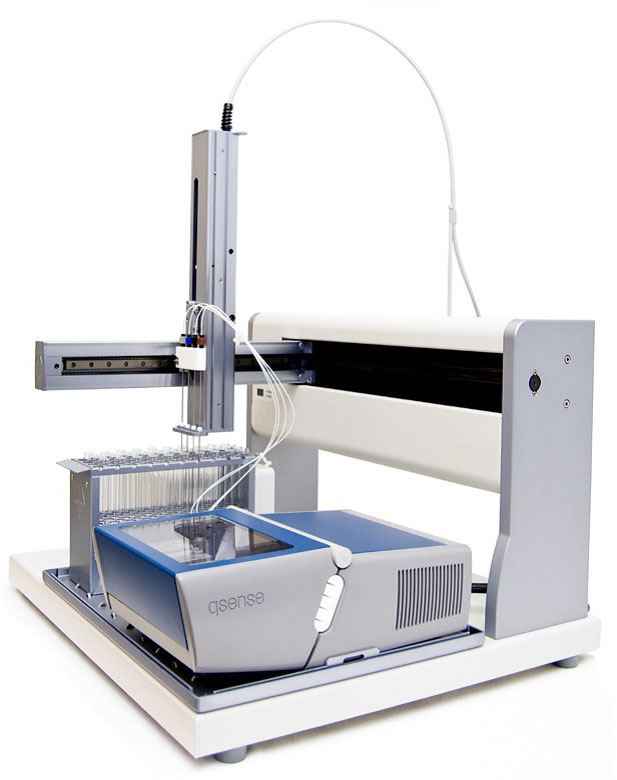 The instrument has four flow modules, each holding one sensor enabling four parallel measurements. The flow modules are exchangeable and can be separately cleaned. All wetted parts (titanium, Teflon and Viton) can easily be removed and cleaned using standard cleaning procedures such as ultrasonication. Using the same chamber base, accessory modules are available for different application needs. At present there is an electrochemistry module, a window module, a humidity module and an open module. 7 frequencies can be measured simultaneously, from the fundamental frequency up to the 13th overtone, enabling improved modelling of a wide range of surfaces. In a routine measurement situation, the kinetic resolution is about one data point per second from all 4 sensors. However, each of these data points is an average of several measurements of f and D, thus enhancing the signal to noise ratio. If maximum kinetic resolution is desired, more than 200 data points per second can be measured. Over 5 stock crystal coatings (Au, SiO2, Stainless steel, PS, Ti), with additional special order sensors available (Hydroxyapatite, Al2O2, Ta, W, Cu, Pt, Cr, Ir, Fe, FeC3, Ag, Co, TaN, polmyers and many more). QTools enables quantification of viscosity, elasticity, and thickness of any soft film measured with the QCM-D at minimum two frequencies. In addition kinetic constants and reaction kinetics can be extracted. The software simplifies interpretation of data, modeling and different kinds of presentations of performed measurements.