Biological Sample & Analysis
---
The instrumentation within the Institute for Bioengineering Research is used for both research and teaching. The following instruments are included in the Bioengineering Research Center and are located in Learned Hall. To inquire about training and instrument use at the Institute for Bioengineering Research Laboratories, please complete the IBER Request Form. A completed IBER Request Form must be on file for anyone working in the laboratories. For more information contact:
Qiang (Charles) Ye, Ph.D.
Director, Institute for Bioengineering Research Laboratories
Office: Learned Hall 5101E
Phone: 785-864-1746
E-mail: yeq@ku.edu
Fisher Scientific Isotemp Incubator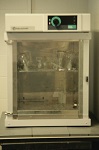 Incubators with gravity flow circulation provide accurate, efficient heating for routine laboratory procedures: drying and staining of slides, paraffin embedding, tissue culture work, incubation of antibody tests, microbiological determinations, crystallization studies and more. Electrical receptacle inside (5A at 120V) to plug in a stirrer, shaker or other apparatus. Temperature range is from 30° to 75°C (86° to 167°F).
Thermo Scientific REVCO Ultima Plus Low Temperature Storage Freezer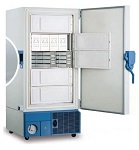 The Thermo Scientific REVCO Ultima Plus Low Temperature Storage Freezer has a temperature range of -86°C to -50°C. It has a storage capacity of 24.8 cubic feet. The LED display is adjusted by a touchpad entry.
Lab Culture ESCO Biohazard Safety Cabinet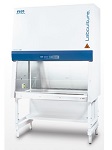 The Labculture combines a multitude of design, construction and proprietary technological considerations to bestow optimum operator, product and environmental protection. ESCO Labculture features a 10-degree sloped front for maximum operator comfort. A 1-piece stainless steel work zone and the absence of screws or connectors in the work zone facilitate ease of cleaning after experiments. The Isocide™ powder coating finish prevents microbial/bacterial growth on the exterior and delivers a sleek, elegant appearance fitting for the leader in biosafety cabinet technology.
Tauttnauer Brinkmann 2340 EA Autoclave-Steam Sterlizer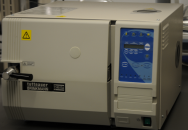 Tuttnauer/Brinkmann benchtop autoclaves offer fast, safe, dependable and convenient steam sterilization for liquids, media, instruments, glassware, clothing and waste.  The model 2340 has a holding capacity of 12 x 125 mL.  The temperature range is from 105 to 137°C (221 to 279°C).  It runs completely automatically through every stage of the cycle, including water-fill, heating, sterilization, exhaust and drying. Four programs are fully adjustable for sterilizing solids, liquids, and absorbent materials.
NAPCO Series 8000 WJ CO2 Incubators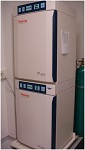 Thermo Scientific CO2 Incubators are recognized for accuracy, uniformity and quick recovery rates attributes that contribute to optimal culturing conditions and meaningful, reproducible results. They include the following features:
100% pure copper interiors
In chamber sensor technology
Oxygen control to better simulate physiological environments
Convenient rapid recovery humidity solutions
Fan assisted circulation of critical environment to prevent culture variation
Bio-Rad Fluor-S Multilmager Imaging System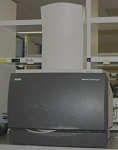 This system provides a quantitative imaging system for capturing high resolution digital images from single and multi-color fluorescence, chemiluminescence, chemifluorescence and colorimetric samples. Using super-cooled CCD technology in combination with a unique ultraviolet illumination mechanism and high efficiency optical design, the Fluor-S MAX offers researchers exceptional sensitivity, uniformity, flexibility and dynamic range for the analysis of electrophoretic samples. With direct imaging and automated acquisition, this system can increase laboratory throughput and eliminate the need for detection methods using x-ray film.
Robbins Scientific 1040-60-1AG Hybridization Oven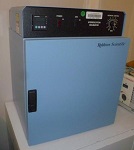 Robbins Scientific hybridization oven is an incubator designed to increase the speed of heating and cooling, and to provide a safer, seamless heating chamber for easier, more efficient nucleic acid hybridization. It features a passive heating system with rotator to provide precisely controlled temperatures within the chamber. Additionally, it eliminates plastic bags, heat sealers, and water baths, and features a front viewing window for continuous monitoring of samples. The rotor operates from 2 – 20 rpm. Precision temperature controller can be set from ambient +5°C to 99°C. LCD display shows both set and actual temperature, with additional external jack for digital thermometer. Tube Capacity: 10.
Gen-Probe SB100 Heat Block Incubator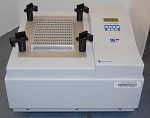 The Gen-Probe SB100 incubator has a capacity for up to one hundred samples and is used for active heating and cooling.
MacConnell Research Mini-Prep 24 DNA Purification System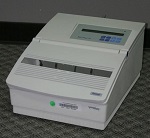 The MacConnell Research DNA Purification System has consistent yield of 6 µg of plasmid DNA for each ml of culture.
Tecan SpectraFluor Absorbance/Fluorescense Microplate Reader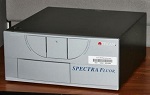 SpectraFluor Absorbance/Fluorescence Excitation filters: 360, 430, 485, 590. Emission: 465, 535, 595, 635.
Perseptive Biosystems CytoFluor II Fluorometer