The instrumentation within the Institute for Bioengineering Research is used for both research and teaching. The following instruments are included at the Institute for Bioengineering Research and are located in Learned Hall. To inquire about training and instrument use at the Institute for Bioengineering Research Laboratories, please complete the IBER Request Form. A completed IBER Request Form must be on file for anyone working in the laboratories. For more information contact: 
Qiang (Charles) Ye, Ph.D.
Director, Institute for Bioengineering Research Laboratories
Office: Learned Hall 5101E
Phone: 785-864-1746
E-mail: yeq@ku.edu
Brookfield Viscometer

The Brookfield DV-II+ Pro EXTRA Viscometer measures fluid viscosity at given shear rates.  Viscosity is a measure of a fluid's resistance to flow.  The DV-II+ Pro EXTRA offers exceptional versatility in modes of control allowing for  traditional standalone operation, automatic operation through programs downloaded from the PC or with complete control by PC using Brookfield Rheocalc Software.
Shimadzu LC-2010 HPLC Chromatography System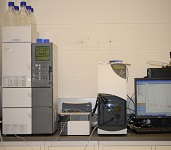 The LC-2010HT is a next-generation HPLC based on the concept of high-throughput analysis and automated validation. The LC-2010HT is comprised of a degassing unit, quaternary low-pressure gradient unit, pump unit, mixer, ultra fast autosampler, column oven, and a UV-VIS detector with a thermostatted flow cell. System reliability has been further improved by standardizing the flow line arrangement in order to integrate the units. As with its predecessor, the LC-2010, the LC-2010HT has unparalleled flow rate and gradient concentration accuracy, but now boasts near-zero sample carryover with its needle coating technology.
Millipore Elix 35 Water Purification System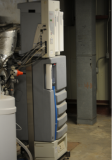 Water passing through the Elix® module is purified. At the same time ion-exchange resins in the module are continuously regenerated via an electrical current.  Analytical-grade water meets the specifications for Type II water defined by CAP, ISO® 3696 / BS 3997 and CLSI® and for Purified Water defined by the European and U.S. Pharmacopoeia.  It is suitable for the following applications:
Microbiological media preparation
Buffer preparation
Hydroponics
Manufacturing chemical and biochemical reagents
Pharmaceutical laboratory
Feed to laboratory equipment: washing machines, clinical analyzers, stability chambers, humidifiers, autoclaves, weathering test equipment, hydrogen gas generators
Synergy UV Millipore Water Purification System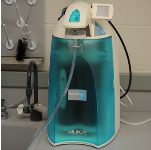 Synergy water purification systems produce ultrapure water using feed water from an existing pretreated pure water supply.  Systems in the Synergy® range can dispense more than 1.5 liters of ultrapure water per minute.  The high quality ultrapure water produced by Synergy® systems is suitable for applications such as production of mobile phase for chromatographic separations; preparation of blanks and standard solutions for spectrophotometry; spectroscopy or other analytical techniques; and preparation of buffers for biochemical and molecular biology experiments. 
Polycom Video Conferencing Equipment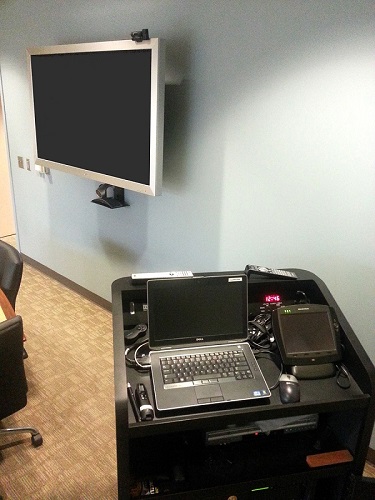 This video conferencing system consists of a 60'' Monitor, Eagle eye camera, Sony DVD/VCR Combo, 8 Channel AEC MIC Mixer, Lectern and Crestron WIFI Control. The Polycom Active Touch application allows you to show and annotate content in real-time from Polycom HDX systems by using a touch screen monitor.