The instrumentation within the Institute for Bioengineering Research is used for both research and teaching. The following instruments are included at the Institute for Bioengineering Research and are located in Learned Hall. To inquire about training and instrument use at the Institute for Bioengineering Research Laboratories, please complete the IBER Request Form. A completed IBER Request Form must be on file for anyone working in the laboratories. For more information contact: 
Qiang (Charles) Ye, Ph.D.
Director, Institute for Bioengineering Research Laboratories
Office: Learned Hall 5101E
Phone: 785-864-1746
E-mail: yeq@ku.edu
Leica SM2500 Heavy Duty Sectioning Microtome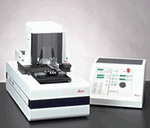 Leica SM2500 and SP2600 heavy duty sectioning microtome and micromilling device used to section large area samples up to 250 mm L x 200 mm W x 70 mm H. It is equipped to handle large and/or hard materials or samples such as mineralized bone and teeth. It will section samples in a range of 1-1,000 microns in 1 micron increments. The SP 2600 attaches to the SM 2500 expanding its capability by adding micromilling capacity, for surface preparation of samples. The SP 2600 is a milling device which will mill samples in a range of 500-3,000 rpm in 500 rpm intervals. The SP2600 produces a highly polished surface of varying sample types which are suitable for reflected light microscopy techniques, or any other surface analysis technique requiring a flat surface. It is particularly well suited for samples that contain hard and soft areas adjacent to each other. The SP 2600 removes carefully controlled layers from the surface of the sample by using a variety of milling tools from tungsten carbide to diamond. A special vacuum enhances operator safety and reduces clean-up by removing most of the milling debris as it is produced.
IsoMet 1000 Precision Saw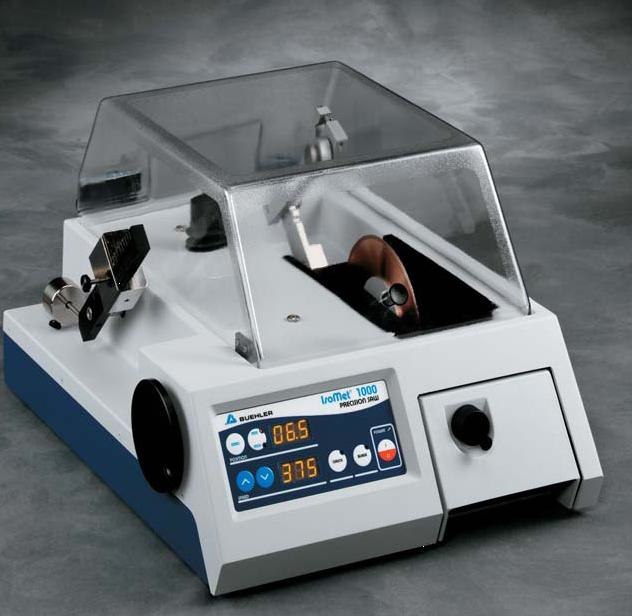 IsoMet 1000 Precision Saw, with automatic cut-off switch, counterbalanced sliding load weight system, 0-500gm, (0-800gm with accessory weight kit), built-in inch or metric digital micrometer cross-feed for sample location, removable coolant tray with built-in dressing device, 1⁄8 HP (90W) DC motor with variable arbor speed 0-975 rpm.
EcoMet 3000 Grinder/Polisher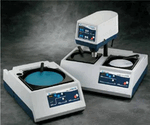 EcoMet 3000 8'' (203mm) variable speed grinder/polisher table-top model. Corrosion and impact resistant RIM cabinet with molded-in bowl with jet flush, drain, pop-up swing faucet with electrically operated flow valve, variable speed from 10-500 in 10 rpm increments, maintaining constant speed under most load conditions, Digital LED display, touch-pad controls and illuminated power on/off switch, motor speed control and run/stop switch with built-in memory for returning to last speed setting, water on/off, platen cover and removable splash guard.
Lecia CM1950 Cryostat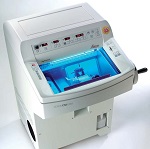 The Leica CM1950 platform is the latest innovation in a long line of distinguished cryostats manufactured by Leica Microsystems. Certified UVC disinfection of exposed surfaces and air within the cryochamber at cold temperatures; AgProtect™ antimicrobial nanosilver coating on the outside surfaces of the cryostat; Optional Section Waste Removal System with a series of three filters; Ergonomic exterior cabinet design with rounded edges and comfortable working height.
KBr Pellet Hand Press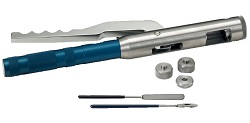 The PIKE Technologies Hand Press is an ideal solution for laboratories that require only occasional preparation of KBr. The Hand Press is an efficient, reliable and inexpensive tool which simplifies making of small pellets. The Hand Press comes complete with three standard die sets (7, 3 and 1 mm). The Die Collar with the formed pellet can be placed directly in the beam of the spectrometer for analysis. The Hand Press is equipped with a platen position dial for adjustment of the force applied to the die and reproducible sample preparation.
Mettler Toledo Titration System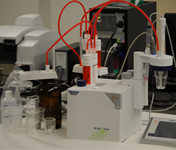 The Titration Excellence line offers many advantages such as One Click Titration™, Plug & Play and method database. The T50 is the ideal entry-level model for the Titration Excellence line and offers much more than a simple titrator.
Terminal with brilliant Touch Screen
Expandable with dispensing burette drives
Comprehensive communication connections
Preconfigured system application packages
Thermo Scientific Sorvall Legend XTR Centrifuge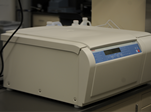 The Sorvall Legend XTR is an in-vitro diagnostics device according to the In-Vitro Diagnostics Directive 98/79/EC.  Several rotors with a wide range of tubes can be used.  The set speed is reached within seconds. The maintenance-free induction motor ensures quiet and low-vibration operation even at high speeds, and guarantees a very long lifetime.  The user-friendly control panel makes it easy to pre-set the speed, RCF value, running time, temperature, and running profile (acceleration and braking curves).
International Crystal Laboratories Press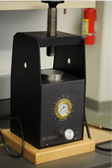 The 15 and 20 ton E-Z Press™ will handle a variety of lab applications, including pressing KBr pellets for FTIR spectroscopy and briquetting samples for XRF spectroscopy. Ports in the walls of the lab press frame allow access for vacuum lines and electrical cords to the area between the platens, which enables use of the press with evacuable dies and heated platens.  The bottom platen of the 15 and 20 ton E-Z Press™ has a 4" diameter depression and optional donut shaped inserts are available to automatically center ICL's 13mm, 20mm, 32mm, 35mm and 40mm die sets.
Buchi Rotavapor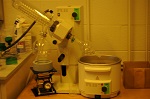 Evaporation by using a rotary evaporator is the most common used method to separate a solvent. With the Buchi Rota vapor II, a continuous vapour duct prevents cross-contamination and is particularly easy to dismantle and clean. The vacuum seal comprises a PTFE composite material and provides long service life and effective sealing. The heating bath has a temperature range from 20-95°C.
New Brunswick Scientific Excella E24 Incubator Shaker Series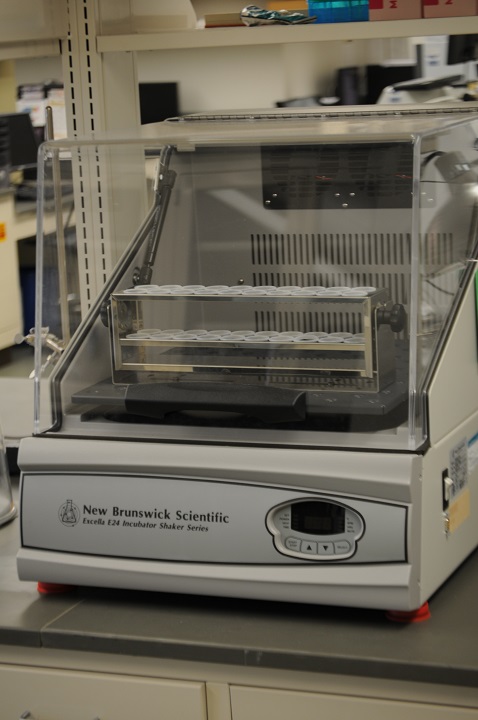 Benchtop Excella model E24 incubator shaker accommodates test tubes or flasks up to 2.8 liters in a tightly-sealed growth chamber featuring a clear acrylic lid for excellent visibility of all samples.  It also provides a wide temperature range of 7°C above ambient to 60°C.  Timed studies with automatic agitation shut-off can be programmed, adjustable from 0.1 to 99.9 hours. Audible and visual alarms indicate end of study.
Mettler Toledo Densito 30PX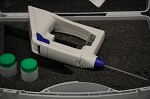 The Densito 30PX measures the density of liquid samples and features an external syringe inlet for direct injection of highly viscous samples.  It has a measurement range of 0 to 2 g/cm3.  The resolution is 0.0001 g/cm3.  Densito always shows the result within seconds in the measurement units you want to use. Using the oscillating tube method combined with precise temperature measurement and an elegant user interface, Densito gives you reliable measurement results.
Forma Scientific Cryoplus2 Freezer

Thermo Scientific Forma CryoPlus 2 storage system provides the ideal combination of liquid nitrogen storage reliability and microprocessor technology featuring an auto-filling system.  It has a capacity of up to 200 Liters.
Thermo Scientific Lindberg Blue M Oven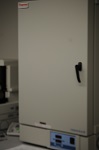 Featuring programmable controls and sophisticated functionality, the Lindberg Blue M deluxe oven is ideal for demanding drying and heating processes that require temperature sequences and exceptional accuracy with a temperature range from 50°C to 325°C.  Programmable microprocessor controls feature detailed settings, intuitive menu, visible indicator lights and automatic restart. Set temperature ramps according to defined process specs with up to 12 ramp and 12 soak periods.
Thermo Scientific NAPCO Series Vacuum Oven (4.5 Cubic Feet)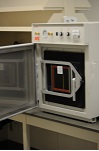 The Thermo Scientific NAPCO Series Vacuum Oven has a temperature range of 10° above ambient to 200°C (ambient +18° to 392°F), thermostatically controlled.  Its vacuum range is 1 atmosphere to 30 in.Hg, with adequate pump.  It consists of two metering valves allow fine adjustment for vacuum and bleed operation as well as a stainless-steel interior.  The tempered glass window provides visibility.
IBER Labs also have: Thermo Scientific NAPCO Series Vacuum Oven (.6 cubic feet) and Thermo Scientific NAPCO Series Vacuum Oven (1.7 cubic feet), both of which are located in Learned Hall 5104.